The Defense Cataloging and Standardization Act (10 U.S.C. 145, Section 2451-2457) directed the Department of Defense to establish a single, unified standardization program. The Defense Standardization Program (DSP) addresses this requirement.
The DSP seeks to identify, develop, manage, and make available standardization processes, products, and services across the Department to promote interoperability, reduce total ownership costs, and sustain readiness.
The Deputy Director for Engineering is the designated Defense Standardization Executive, responsible for setting the DSP strategic direction and developing standardization policy and procedures.
Membership: The DSC is composed of executive-level representatives from the Military Departments and certain Defense Agencies, and is chaired by Dr. Sandra Magnus, Defense Standardization Executive. Standardization stakeholders and interested parties are also invited to participate on an ad hoc basis as the agenda warrants.
Contact by Email: DSPO Leadership
Common Access Card‐Enabled Sites
Send an email to the Engineering Standardization Team.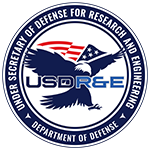 Office of the Under Secretary of Defense,
Research and Engineering (USD(R&E))
The Pentagon, Washington, DC 20301